Are you looking for bowling leagues Taylor MI?
Looking to make some new friends who love bowling as much as you do? Make your way over to Oak Lanes Bowling Center and take a look at our incredible roster of inclusive bowling leagues to see which is right for you! We already have more than 40 different bowling leagues practicing seven days a week for you to choose from. Plus each of our bowling leagues are designed to cater to different skill levels and interests to ensure you can find a group you really fit in with. If you want to join a basic all-male or all-female league, for instance, or join a specific group based on age, our versatile bowling leagues have you covered. In fact, we offer leagues for various religious organizations, special needs groups, odd couples, hard-core competitive players, people who just want to have a good time, and people who barely even know how to bowl. If you still can't find a group that you click with, we'll even try to help you create a bowling league of your own. Whatever we can do to make your dream of joining one of our spectacular bowling leagues come true, we're on it. Besides, what else have you got going on in Taylor? Nothing that can beat joining one of our incredible bowling leagues here at Oak Lanes Bowling Center, that's for sure!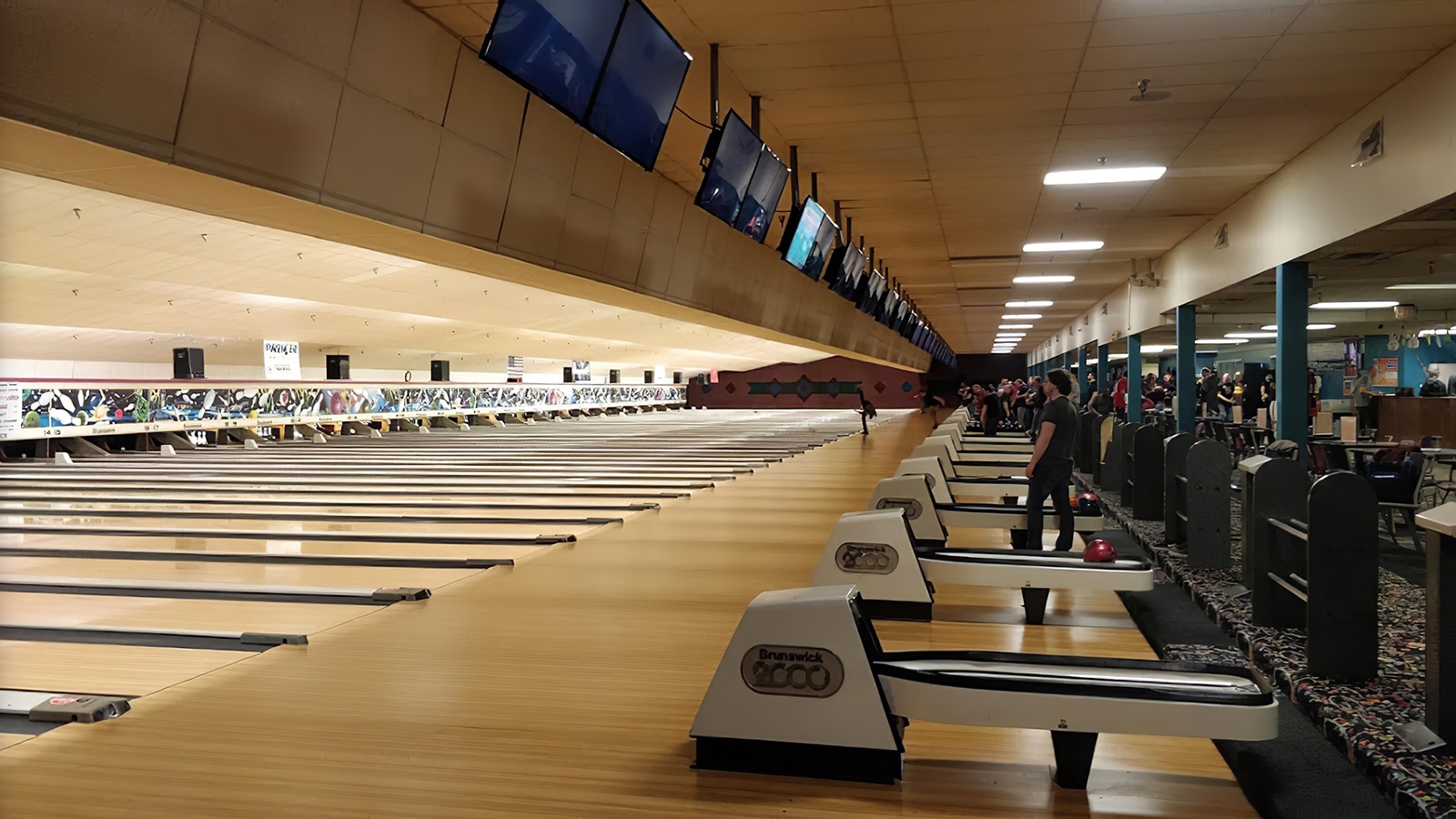 Bowling Leagues Taylor MI
At Oak Lanes Bowling Center, we provide healthy, wholesome fun for people of all ages, including offering some of the most inclusive bowling leagues anywhere near Taylor, MI. After all, Taylor has a lot of things going on entertainment wise, from parks and golf courses, to theaters and local shopping centers. However, in terms of anything residents of Taylor might consider exciting, there aren't too many options. Sure there are a few family-friendly spots in Taylor, but those cater mostly to kids with limited opportunities for adults. That's why, at Oak Lanes Bowling Center though, we always make sure to have plenty of things to offer people who are both young, and young at heart. Things you won't find anywhere else in Taylor. For instance, for kids, we have bowling lanes, shuffleboard, fun trivia, scrumptious snacks, and more. Meanwhile, adults are free to participate in any of that, as well as access either of our two on-site bars, each equipped with their own dartboards. Best of all, anyone in Taylor, no matter how young, old, skilled, or shy they are, can join one of our bowling leagues so the fun never has to stop. Simply figure out which night of the week you have some time to get out of Taylor for a little while, and we'll help you choose the right group for you!
New 12-16 Week Fun Leagues
| Day | Time | League Name | Weeks | League Type | Starts | Download Flyer | Join |
| --- | --- | --- | --- | --- | --- | --- | --- |
| Monday | 7:00 PM | Lousy Bowlers League | 12 | Co-ed Teams of 4 | 9/25/23 @ 7pm | | Inquire to Join >> |
| Tuesday | 7:00 PM | Lousy Bowlers League | 12 | Co-ed Teams of 4 | 9/12/23 @ 7pm | | Inquire to Join >> |
| Wednesday | 6:30 PM | Lousy Bowler League | 12 | Co-ed Teams of 4 | 9/6/23 @ 6:30pm | | Inquire to Join >> |
| Sunday | 6:00 PM | Lousy Bowler League | 12 | Co-ed Teams of 4 | 10/8/23 @ 6:00pm | | Inquire to Join >> |
New Sport Shot Trio League
Returning Leagues
Day
Time
League Name
League Type
Starts
Join
Monday
07:00 PM
Lousy Bowlers League
(Every Bowler Receives a Custom Drilled Ball)
Adult/Co-ed
Teams of 4
9/25/23
Inquire to Join >>
Tuesday
07:00 PM
Lousy Bowlers League
(Every Bowler Receives a Custom Drilled Ball)
Adult/Co-ed
Teams of 4
9/12/23
Inquire to Join >>
Tuesday
07:00 PM
Tuesday Booty Bowlers
(Fun League - Casual, Slightly Competitive)
Adult/Co-ed
Teams of 4
9/5/23
Inquire to Join >>
Wednesday
06:30 PM
Lousy Bowlers League
(Every Bowler Receives a Custom Drilled Ball)
Adult/Co-ed
Teams of 4
9/6/23
Inquire to Join >>
Wednesday
06:30 PM
Lousy Bowlers 2.0
(Fun League - Casual, Slightly Competitive)
Adult/Co-ed
Teams of 4
9/6/23
Inquire to Join >>
Saturday
05:30 PM
Odd Couples
(Every Other Week League)
Adult/Co-ed
Teams of 4
9/9/23
Inquire to Join >>
Saturday
05:30 PM
Dirty Dozen
(Every Other Week League)
Adult/Co-ed
Teams of 4
9/16/23
Inquire to Join >>
Saturday
05:30 PM
Independent Raiders
(Every Other Week League)
Adult/Co-ed
Teams of 4
9/16/23
Inquire to Join >>
Saturday
06:15 PM
Ford Mustangs
(Once-a-Month League)
Adult/Co-ed
Teams of 4
9/9/23
Inquire to Join >>
Saturday
05:15 PM
Minds in the Gutter
(Once-a-Month League)
Adult/Co-ed
Teams of 4
9/23/23
Inquire to Join >>
Saturday
08:30 PM
Print Craft Mixed
(Every Other Week League)
Adult/Co-ed
Teams of 4
9/9/23
Inquire to Join >>
Saturday
08:30 PM
Good Time Saturday Night
(Every Other Week League)
Adult/Co-ed
Teams of 4
9/16/23
Inquire to Join >>
Sunday
06:00 PM
Lousy Bowlers League
(Every Bowler Receives a Custom Drilled Ball)
Adult/Co-ed
Teams of 4
10/8/23
Inquire to Join >>
Whether you are looking for beginner or experienced bowling leagues Taylor MI, call Oak Lanes today at (734) 422-7420, or simply fill out the form below: