Are you looking for bowling leagues Romulus MI?
Looking for the best place to enjoy Metro Detroit's most popular sport? Come on down to Oak Lanes Bowling Center and show us what you've got! If you're really serious about bowling, or you just want to keep the fun going, you can even look into joining one of our elite bowling leagues as well! Currently, we have more than 40 different bowling leagues to choose from, and are never shy about creating more if you can't seem to find one you click with. Although, we don't honestly think that will be an issue. We've done a pretty good job about offering bowling leagues that cater to every possible age range, skill level, interest, and schedule. We have bowling leagues that meet every day of the week in case work/school/homecare conflicts are a concern. Or, you can pick your contending bowling leagues by personal preference. With youth teams, senior teams, gender-specific teams, beginner teams, fun-loving teams, teams for people who've never bowled before, and more, you're bound to find the perfect group for you. So, what do you say? Ready to check out our bowling leagues over at Oak Lanes Bowling Center and see for yourself where you're likely to start spending all your time instead of Romulus? If so, don't be shy. We're only here to help you have fun!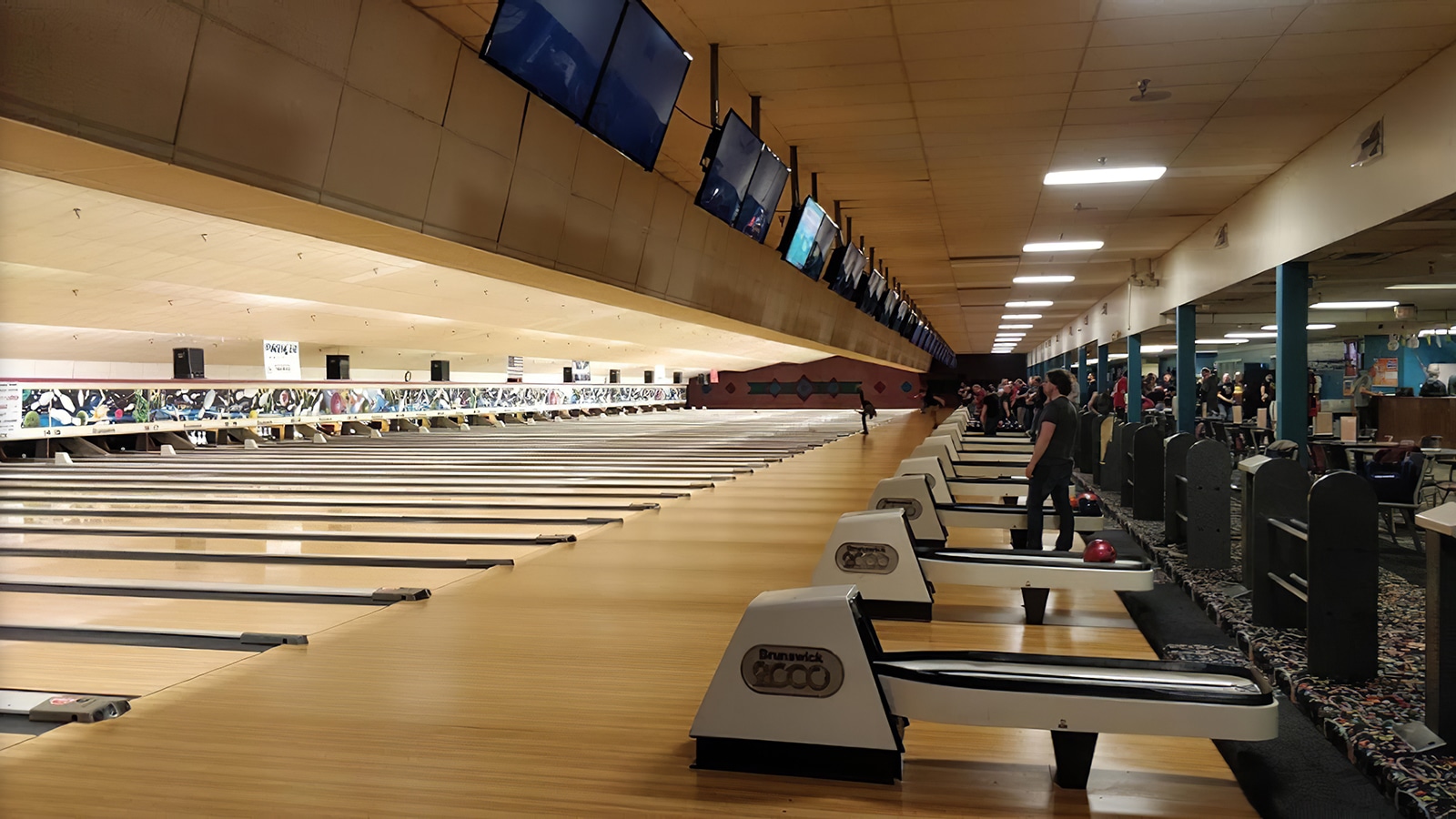 Bowling Leagues Romulus MI
At Oak Lanes Bowling Center, we provide healthy, wholesome fun for people of all ages, including offering some of the most inclusive bowling leagues anywhere near Romulus, MI. After all, everyone knows bowling is easily one of the most popular pastimes in Michigan. Metro Detroit, which includes Romulus, is even considered the bowling capital of the world. However, if you're just looking to head out and have some fun, you don't need to drive over a half an hour outside of Romulus to get downtown to do it. All you need to do is head north from Romulus until you reach Oak Lanes Bowling Center. We have astoundingly clean lanes, shuffleboard areas, darts, MyTrivia Live, two premium bars, fantastic food, and much more for you and all your friends and loved ones in Romulus to enjoy. Simply swing on by the next time you need to unwind, have a date, or want to take the family out for some good old fashion fun, and we'll make sure you return home to Romulus smiling. Best of all, joining one of our incredible bowling leagues is the perfect excuse for you to come back again and again, so you never have to worry about finding a good enough reason to leave your lovely city of Romulus behind!
New 12-16 Week Fun Leagues
| Day | Time | League Name | Weeks | League Type | Starts | Download Flyer | Join |
| --- | --- | --- | --- | --- | --- | --- | --- |
| Monday | 7:00 PM | Lousy Bowlers League | 12 | Co-ed Teams of 4 | 9/25/23 @ 7pm | | Inquire to Join >> |
| Tuesday | 7:00 PM | Lousy Bowlers League | 12 | Co-ed Teams of 4 | 9/12/23 @ 7pm | | Inquire to Join >> |
| Wednesday | 6:30 PM | Lousy Bowler League | 12 | Co-ed Teams of 4 | 9/6/23 @ 6:30pm | | Inquire to Join >> |
| Sunday | 6:00 PM | Lousy Bowler League | 12 | Co-ed Teams of 4 | 10/8/23 @ 6:00pm | | Inquire to Join >> |
New Sport Shot Trio League
Returning Leagues
Day
Time
League Name
League Type
Starts
Join
Monday
07:00 PM
Lousy Bowlers League
(Every Bowler Receives a Custom Drilled Ball)
Adult/Co-ed
Teams of 4
9/25/23
Inquire to Join >>
Tuesday
07:00 PM
Lousy Bowlers League
(Every Bowler Receives a Custom Drilled Ball)
Adult/Co-ed
Teams of 4
9/12/23
Inquire to Join >>
Tuesday
07:00 PM
Tuesday Booty Bowlers
(Fun League - Casual, Slightly Competitive)
Adult/Co-ed
Teams of 4
9/5/23
Inquire to Join >>
Wednesday
06:30 PM
Lousy Bowlers League
(Every Bowler Receives a Custom Drilled Ball)
Adult/Co-ed
Teams of 4
9/6/23
Inquire to Join >>
Wednesday
06:30 PM
Lousy Bowlers 2.0
(Fun League - Casual, Slightly Competitive)
Adult/Co-ed
Teams of 4
9/6/23
Inquire to Join >>
Saturday
05:30 PM
Odd Couples
(Every Other Week League)
Adult/Co-ed
Teams of 4
9/9/23
Inquire to Join >>
Saturday
05:30 PM
Dirty Dozen
(Every Other Week League)
Adult/Co-ed
Teams of 4
9/16/23
Inquire to Join >>
Saturday
05:30 PM
Independent Raiders
(Every Other Week League)
Adult/Co-ed
Teams of 4
9/16/23
Inquire to Join >>
Saturday
06:15 PM
Ford Mustangs
(Once-a-Month League)
Adult/Co-ed
Teams of 4
9/9/23
Inquire to Join >>
Saturday
05:15 PM
Minds in the Gutter
(Once-a-Month League)
Adult/Co-ed
Teams of 4
9/23/23
Inquire to Join >>
Saturday
08:30 PM
Print Craft Mixed
(Every Other Week League)
Adult/Co-ed
Teams of 4
9/9/23
Inquire to Join >>
Saturday
08:30 PM
Good Time Saturday Night
(Every Other Week League)
Adult/Co-ed
Teams of 4
9/16/23
Inquire to Join >>
Sunday
06:00 PM
Lousy Bowlers League
(Every Bowler Receives a Custom Drilled Ball)
Adult/Co-ed
Teams of 4
10/8/23
Inquire to Join >>
Whether you are looking for beginner or experienced bowling leagues Romulus MI, call Oak Lanes today at (734) 422-7420, or simply fill out the form below: