Are you looking for bowling leagues Plymouth MI?
Just because you love bowling doesn't mean all bowlers are just like you. If you really want to find a group that makes you feel like family, and create lifelong friendships with like-minded people, your best bet is to check out our diverse roster of bowling leagues available at Oak Lanes Bowling Center! We currently offer more than 40 different bowling leagues for every possible participant, from kids teams, senior groups, and men/women-only leagues, to leagues for special needs guests, competitive players, and people who don't even know how to bowl. Not interested in any of the preexisting bowling leagues we have available? Ask our staff about what you'd need to do to create a custom league for players with your unique style and interests, and form a bowling league of your very own! We have everything you need to make sure you have an amazing time, including incredible food and drinks for you and all your new friends to bond over. Really it doesn't even matter if you're playing just for fun, or if you're in it to win it. Our bowling leagues can be your safe space away from all your worries and concerns back home in Plymouth – because here at Oak Lanes Bowling Center, we're all about having fun!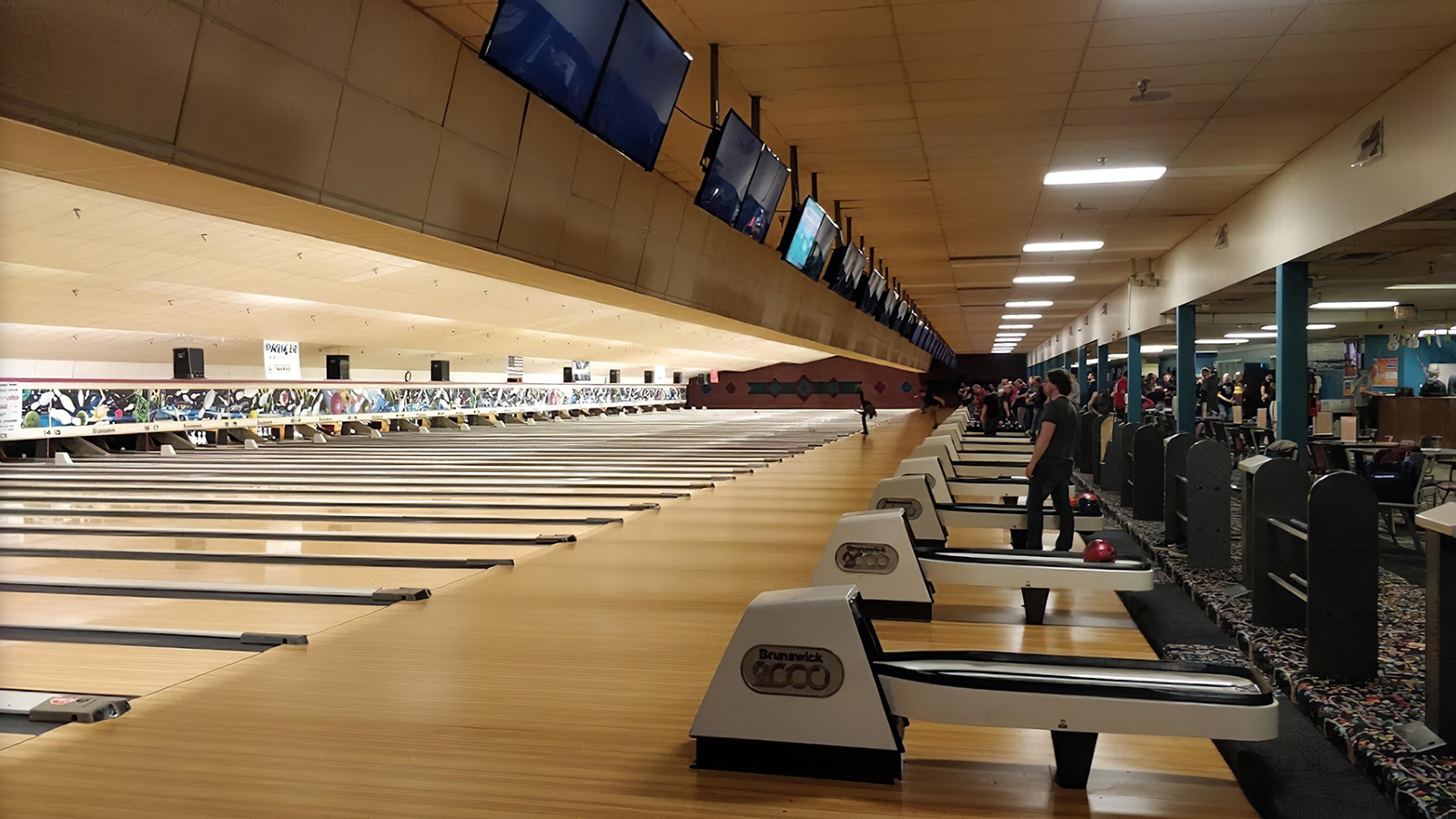 Bowling Leagues Plymouth MI
At Oak Lanes Bowling Center, we provide healthy, wholesome fun for people of all ages, including offering some of the most inclusive bowling leagues anywhere near Plymouth, MI. After all, much like the surrounding Plymouth Township, the city of Plymouth is filled with serene parks, timeless theaters, charming cider mills, historical museums, and more. It's neighborhoods offer all the safety, charm, and amenities residents could ever need. Plus, Plymouth has a long history and unique culture that sets it apart from all other cities nearby. However, when it comes to thrills and action, nothing in Plymouth is going to ever surpass our exciting entertainment at Oak Lanes Bowling Center. We have spectacular bowling lanes, shuffleboard, darts, trivia games, and more to entertain every guest, whether you're a casual or competitive player. Plus, our incredibly expansive dining and bar menus offer mouthwatering delicacies that rival even some of the local pubs and restaurants in Plymouth. So please, do yourself a favor and join one of our bowling leagues today. Once you start letting go of all the tension caused by your everyday life in Plymouth, and for once allow yourself to have fun like you're a kid again, we're confident you'll find joy like you've never known.
New 12-16 Week Fun Leagues
| Day | Time | League Name | Weeks | League Type | Starts | Download Flyer | Join |
| --- | --- | --- | --- | --- | --- | --- | --- |
| Monday | 7:00 PM | Lousy Bowlers League | 12 | Co-ed Teams of 4 | 9/25/23 @ 7pm | | Inquire to Join >> |
| Tuesday | 7:00 PM | Lousy Bowlers League | 12 | Co-ed Teams of 4 | 9/12/23 @ 7pm | | Inquire to Join >> |
| Wednesday | 6:30 PM | Lousy Bowler League | 12 | Co-ed Teams of 4 | 9/6/23 @ 6:30pm | | Inquire to Join >> |
| Sunday | 6:00 PM | Lousy Bowler League | 12 | Co-ed Teams of 4 | 10/8/23 @ 6:00pm | | Inquire to Join >> |
New Sport Shot Trio League
Returning Leagues
Day
Time
League Name
League Type
Starts
Join
Monday
07:00 PM
Lousy Bowlers League
(Every Bowler Receives a Custom Drilled Ball)
Adult/Co-ed
Teams of 4
9/25/23
Inquire to Join >>
Tuesday
07:00 PM
Lousy Bowlers League
(Every Bowler Receives a Custom Drilled Ball)
Adult/Co-ed
Teams of 4
9/12/23
Inquire to Join >>
Tuesday
07:00 PM
Tuesday Booty Bowlers
(Fun League - Casual, Slightly Competitive)
Adult/Co-ed
Teams of 4
9/5/23
Inquire to Join >>
Wednesday
06:30 PM
Lousy Bowlers League
(Every Bowler Receives a Custom Drilled Ball)
Adult/Co-ed
Teams of 4
9/6/23
Inquire to Join >>
Wednesday
06:30 PM
Lousy Bowlers 2.0
(Fun League - Casual, Slightly Competitive)
Adult/Co-ed
Teams of 4
9/6/23
Inquire to Join >>
Saturday
05:30 PM
Odd Couples
(Every Other Week League)
Adult/Co-ed
Teams of 4
9/9/23
Inquire to Join >>
Saturday
05:30 PM
Dirty Dozen
(Every Other Week League)
Adult/Co-ed
Teams of 4
9/16/23
Inquire to Join >>
Saturday
05:30 PM
Independent Raiders
(Every Other Week League)
Adult/Co-ed
Teams of 4
9/16/23
Inquire to Join >>
Saturday
06:15 PM
Ford Mustangs
(Once-a-Month League)
Adult/Co-ed
Teams of 4
9/9/23
Inquire to Join >>
Saturday
05:15 PM
Minds in the Gutter
(Once-a-Month League)
Adult/Co-ed
Teams of 4
9/23/23
Inquire to Join >>
Saturday
08:30 PM
Print Craft Mixed
(Every Other Week League)
Adult/Co-ed
Teams of 4
9/9/23
Inquire to Join >>
Saturday
08:30 PM
Good Time Saturday Night
(Every Other Week League)
Adult/Co-ed
Teams of 4
9/16/23
Inquire to Join >>
Sunday
06:00 PM
Lousy Bowlers League
(Every Bowler Receives a Custom Drilled Ball)
Adult/Co-ed
Teams of 4
10/8/23
Inquire to Join >>
Whether you are looking for beginner or experienced bowling leagues Plymouth MI, call Oak Lanes today at (734) 422-7420, or simply fill out the form below: