Are you looking for bowling leagues Livonia MI?
Metro Detroit may be the bowling capital of the world, but when it comes to just enjoying a little fun, and fierce competition, with some real friends, you won't find a more diverse collection of bowling leagues than ours at Oak Lanes Bowling Center. Currently, we have more than 40 different bowling leagues for every age, disposition, and skill level who meet seven days a week. We offer youth teams for the kids, senior bowling leagues, male-only bowling leagues and teams, female-only groups, beginners teams, highly competitive leagues, just-for-fun groups, special needs leagues, bowling leagues for people who are really bad at bowling, and so much more. Plus, if you don't find a group you click with right away, you can petition to start your own bowling league based on pretty much whatever you'd like. Simply consider your interests and ambitions for the sport, and before you know it you'll be out rubbing elbows with all sorts of other teams on the lanes with a team of your very own. Thanks to Oak Lanes Bowling Center, you finally have a place to let loose and be free to truly have fun. So please, take advantage. Any one of our bowling leagues could be your next home away from Livonia. You just have to discover which one!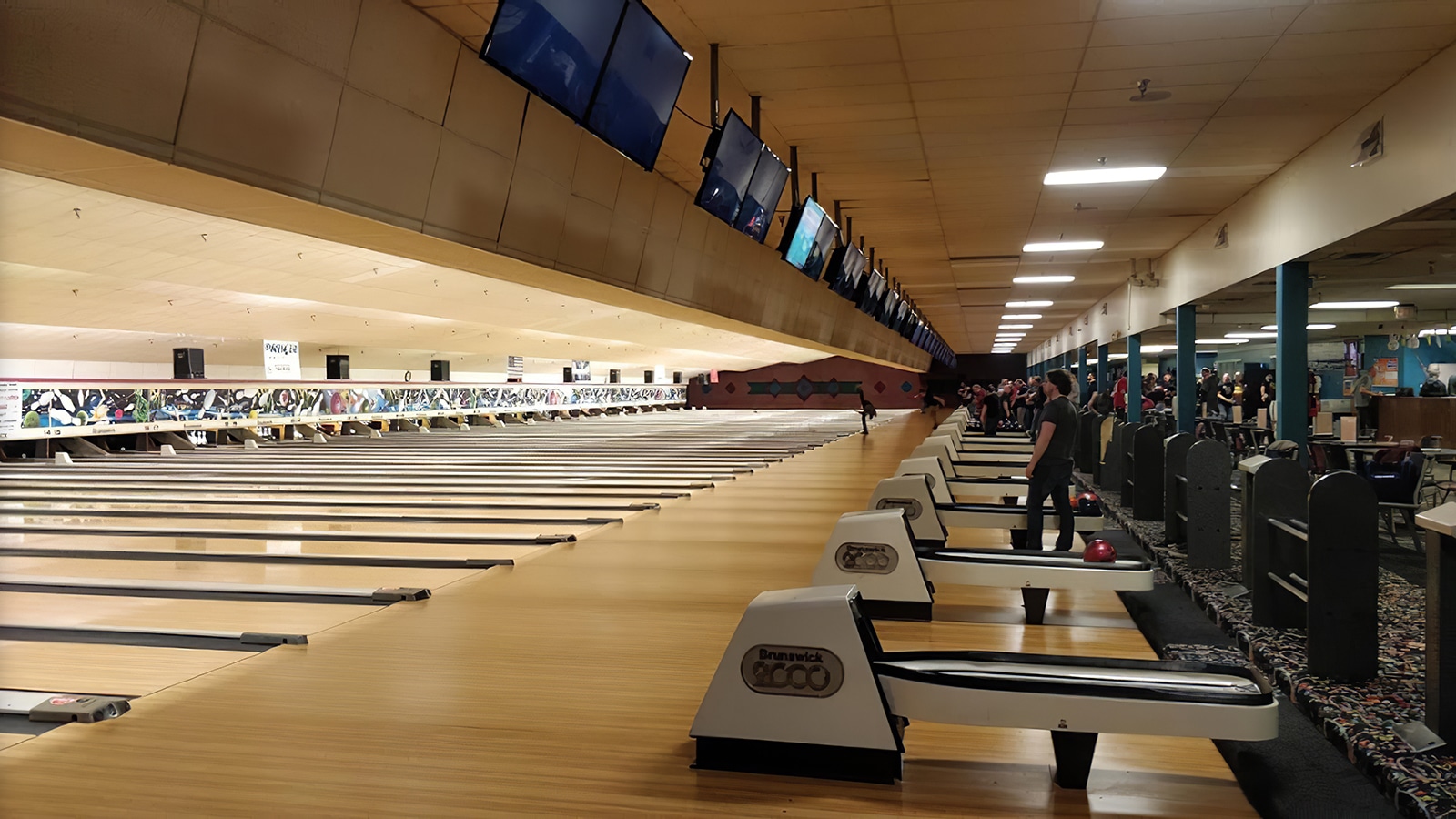 Bowling Leagues Livonia MI
At Oak Lanes Bowling Center, we provide healthy, wholesome fun for people of all ages, including offering some of the most inclusive bowling leagues anywhere near Livonia, MI. After all, Livonia may have a lot to offer its residents, from beautiful traditional neighborhoods, to ample professional opportunities, but one thing it does not have is entertainment that can compare to our endless games and fun. Sure Livonia's antique stores, historic parks, local malls, and other revelries are plenty charming, but there's so much more excitement around. We can offer you and all your friends throughout Livonia access to all the excitement you can handle thanks to our premium bowling lanes, darts, shuffleboard, trivia, competitive leagues, incredible food, two separate bars, and so much more. All in all, whether you're looking to enjoy a family fun night, a friend-only get together, or a date, everything you need to have a great time is only a short drive south of Livonia. Want to really break free from your never-ending routine in Livonia? Join one of our incredible bowling leagues at Oak Lanes Bowling Center so you can keep the fun going! Perhaps you can even start a league for proud Livonia residents?
New 12-16 Week Fun Leagues
| Day | Time | League Name | Weeks | League Type | Starts | Download Flyer | Join |
| --- | --- | --- | --- | --- | --- | --- | --- |
| Monday | 7:00 PM | Lousy Bowlers League | 12 | Co-ed Teams of 4 | 9/25/23 @ 7pm | | Inquire to Join >> |
| Tuesday | 7:00 PM | Lousy Bowlers League | 12 | Co-ed Teams of 4 | 9/12/23 @ 7pm | | Inquire to Join >> |
| Wednesday | 6:30 PM | Lousy Bowler League | 12 | Co-ed Teams of 4 | 9/6/23 @ 6:30pm | | Inquire to Join >> |
| Sunday | 6:00 PM | Lousy Bowler League | 12 | Co-ed Teams of 4 | 10/8/23 @ 6:00pm | | Inquire to Join >> |
New Sport Shot Trio League
Returning Leagues
Day
Time
League Name
League Type
Starts
Join
Monday
07:00 PM
Lousy Bowlers League
(Every Bowler Receives a Custom Drilled Ball)
Adult/Co-ed
Teams of 4
9/25/23
Inquire to Join >>
Tuesday
07:00 PM
Lousy Bowlers League
(Every Bowler Receives a Custom Drilled Ball)
Adult/Co-ed
Teams of 4
9/12/23
Inquire to Join >>
Tuesday
07:00 PM
Tuesday Booty Bowlers
(Fun League - Casual, Slightly Competitive)
Adult/Co-ed
Teams of 4
9/5/23
Inquire to Join >>
Wednesday
06:30 PM
Lousy Bowlers League
(Every Bowler Receives a Custom Drilled Ball)
Adult/Co-ed
Teams of 4
9/6/23
Inquire to Join >>
Wednesday
06:30 PM
Lousy Bowlers 2.0
(Fun League - Casual, Slightly Competitive)
Adult/Co-ed
Teams of 4
9/6/23
Inquire to Join >>
Saturday
05:30 PM
Odd Couples
(Every Other Week League)
Adult/Co-ed
Teams of 4
9/9/23
Inquire to Join >>
Saturday
05:30 PM
Dirty Dozen
(Every Other Week League)
Adult/Co-ed
Teams of 4
9/16/23
Inquire to Join >>
Saturday
05:30 PM
Independent Raiders
(Every Other Week League)
Adult/Co-ed
Teams of 4
9/16/23
Inquire to Join >>
Saturday
06:15 PM
Ford Mustangs
(Once-a-Month League)
Adult/Co-ed
Teams of 4
9/9/23
Inquire to Join >>
Saturday
05:15 PM
Minds in the Gutter
(Once-a-Month League)
Adult/Co-ed
Teams of 4
9/23/23
Inquire to Join >>
Saturday
08:30 PM
Print Craft Mixed
(Every Other Week League)
Adult/Co-ed
Teams of 4
9/9/23
Inquire to Join >>
Saturday
08:30 PM
Good Time Saturday Night
(Every Other Week League)
Adult/Co-ed
Teams of 4
9/16/23
Inquire to Join >>
Sunday
06:00 PM
Lousy Bowlers League
(Every Bowler Receives a Custom Drilled Ball)
Adult/Co-ed
Teams of 4
10/8/23
Inquire to Join >>
Whether you are looking for beginner or experienced bowling leagues Livonia MI, call Oak Lanes today at (734) 422-7420, or simply fill out the form below: