Are you looking for bowling leagues Allen Park MI?
If you're desperate to find a place that lets you blow off some steam and stay active so you can thrive throughout the rest of your week, Oak Lanes Bowling Center is a great place to start. Joining one of our bowling leagues can help you meet like-minded people from around the city, as well as take advantage of a little wholesome, active fun that leaves you feeling great at the end of the night. Best of all, we have more than 40 different bowling leagues that meet sevens days a week for you to join, including all-male and all-female leagues, senior leagues, youth leagues, couples leagues, leagues for people who just love bowling, leagues for people who don't understand bowling, and so many more. Don't see any bowling leagues that seem to strike your interest? Let us help you create one of your own by telling us more about your skills, interests, and personal life back in Allen Park! Our only goal here at Oak Lanes Bowling Center is to help everyone on all our bowling leagues have a great time, and we're prepared to accommodate you in whatever ways we can!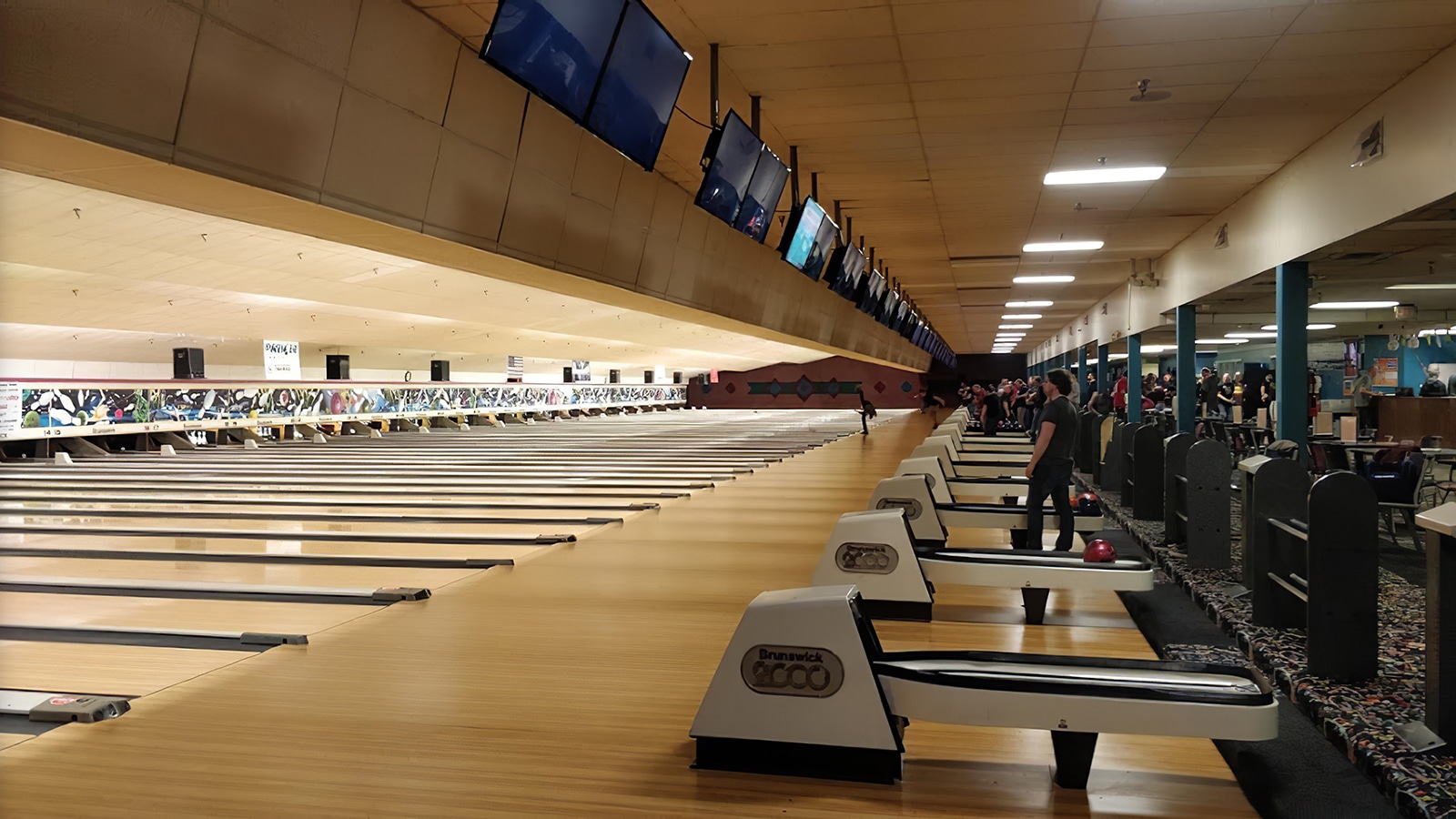 Bowling Leagues Allen Park MI
At Oak Lanes Bowling Center, we provide healthy, wholesome fun for people of all ages, including offering some of the most inclusive bowling leagues anywhere near Allen Park, MI. After all, Allen Park is already a pretty popular hot spot for bowlers. So the real question is, what sets ours apart from any other lanes in/near Allen Park? Of course, our answer is: everything. From the volume, quality, and diversity of food, to our management of two separate bars, to all our additional games and available fun, we're the place people look for when they want to have a good time with the people they love and care about. While others in and around Allen Park might be super serious about bowling, we're deeply serious about satisfying our leagues' members and making sure everyone has a great time. More importantly, we're only about 20 minutes from Allen Park, which means you can let loose as much as you want without having to worry about being too far from home. In fact, make sure to grab something off our incredible menu before you head back to Allen Park so you have a tasty treat to toast your victories! Before you know it you'll be spending all your evenings away from Allen Park busting pins at Oak Lanes Bowling Center!
New 12-16 Week Fun Leagues
| Day | Time | League Name | Weeks | League Type | Starts | Download Flyer | Join |
| --- | --- | --- | --- | --- | --- | --- | --- |
| Monday | 7:00 PM | Lousy Bowlers League | 12 | Co-ed Teams of 4 | 9/25/23 @ 7pm | | Inquire to Join >> |
| Tuesday | 7:00 PM | Lousy Bowlers League | 12 | Co-ed Teams of 4 | 9/12/23 @ 7pm | | Inquire to Join >> |
| Wednesday | 6:30 PM | Lousy Bowler League | 12 | Co-ed Teams of 4 | 9/6/23 @ 6:30pm | | Inquire to Join >> |
| Sunday | 6:00 PM | Lousy Bowler League | 12 | Co-ed Teams of 4 | 10/8/23 @ 6:00pm | | Inquire to Join >> |
New Sport Shot Trio League
Returning Leagues
Day
Time
League Name
League Type
Starts
Join
Monday
07:00 PM
Lousy Bowlers League
(Every Bowler Receives a Custom Drilled Ball)
Adult/Co-ed
Teams of 4
9/25/23
Inquire to Join >>
Tuesday
07:00 PM
Lousy Bowlers League
(Every Bowler Receives a Custom Drilled Ball)
Adult/Co-ed
Teams of 4
9/12/23
Inquire to Join >>
Tuesday
07:00 PM
Tuesday Booty Bowlers
(Fun League - Casual, Slightly Competitive)
Adult/Co-ed
Teams of 4
9/5/23
Inquire to Join >>
Wednesday
06:30 PM
Lousy Bowlers League
(Every Bowler Receives a Custom Drilled Ball)
Adult/Co-ed
Teams of 4
9/6/23
Inquire to Join >>
Wednesday
06:30 PM
Lousy Bowlers 2.0
(Fun League - Casual, Slightly Competitive)
Adult/Co-ed
Teams of 4
9/6/23
Inquire to Join >>
Saturday
05:30 PM
Odd Couples
(Every Other Week League)
Adult/Co-ed
Teams of 4
9/9/23
Inquire to Join >>
Saturday
05:30 PM
Dirty Dozen
(Every Other Week League)
Adult/Co-ed
Teams of 4
9/16/23
Inquire to Join >>
Saturday
05:30 PM
Independent Raiders
(Every Other Week League)
Adult/Co-ed
Teams of 4
9/16/23
Inquire to Join >>
Saturday
06:15 PM
Ford Mustangs
(Once-a-Month League)
Adult/Co-ed
Teams of 4
9/9/23
Inquire to Join >>
Saturday
05:15 PM
Minds in the Gutter
(Once-a-Month League)
Adult/Co-ed
Teams of 4
9/23/23
Inquire to Join >>
Saturday
08:30 PM
Print Craft Mixed
(Every Other Week League)
Adult/Co-ed
Teams of 4
9/9/23
Inquire to Join >>
Saturday
08:30 PM
Good Time Saturday Night
(Every Other Week League)
Adult/Co-ed
Teams of 4
9/16/23
Inquire to Join >>
Sunday
06:00 PM
Lousy Bowlers League
(Every Bowler Receives a Custom Drilled Ball)
Adult/Co-ed
Teams of 4
10/8/23
Inquire to Join >>
Whether you are looking for beginner or experienced bowling leagues Allen Park MI, call Oak Lanes today at (734) 422-7420, or simply fill out the form below: